Chapbooks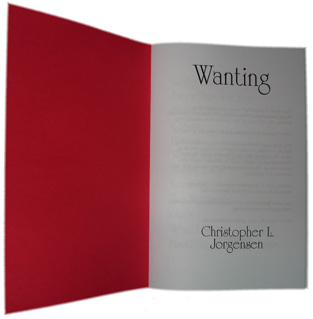 So far I have one chapbook. But I'm optimistic and have another two and a spoken word CD in the works. I've printed up a couple dozen copies of my favorite 12 poems from this site. "Wanting" is available for $5 by mail to:
Christopher L. Jorgensen
P.O. Box 93042
Des Moines, IA 50393
Checks, money order, or cash are acceptable methods of payment. Or for an extra fifty cents you can use the following PayPal link:
Why should you buy something the author is providing for free? It encourages me to write more (so if you dig my stuff pony up), it supports this site (so many dollars sacrificed at the altar of bandwidth), and lastly, some people just don't like to read poetry at their computers. Of course if you think a chapbook is silly, but like this site and want me to create additional sites, I am just as happy to accept donations in either of the above methods. Just include a note saying "keep your stinking pages to yourself." I'll still cash the check.
I will reject payments from anyone I know! If you have the misfortune of knowing me in real life and want one, hunt me down and ask for it, but chances are it'll cost you a drink. I have two more chapbooks in the works, and if this one goes well I'll put more effort into finishing them. I also have the infrastructure for a new site planned. Now I need to write more.